How To Become A Personal Trainer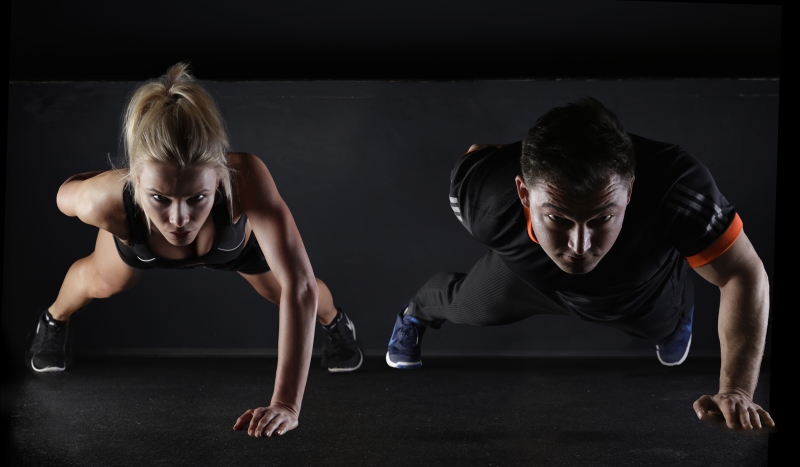 Fancy a job or career in the fitness industry? We tell you how to become a personal trainer with our simple guide about what's needed and whether you have what it takes? A comprehensive section dedicated to helping you find out more.
Find out more about what's needed for you to become a personal trainer. From the training certifications to the companies offering them, read our quick guide below to see whether this is the job for you. We can also help you with training courses as well as a rundown of the leading UK training providers that we choose to work with.
It sounds obvious, but apart from possessing the right characteristics, the most important thing you'll need is the right personal training qualification - one that is from an accredited and recognised UK provider (we have provided information and contact details for UK personal training companies that we recommend).
What Is a Personal Trainer?
In short, a personal fitness trainer is a qualified fitness professional that works with all kinds of people, called clients, to help them achieve their health and fitness goals. There are lots of reasons why people choose this career, but if it's all about the personal trainer salary you will find that it can vary wildly based on your ability and experience and the competition in your area.
What Skills Do You Need?
There are lots of skills you will need to be an effective personal trainer. Here we have tried to list some, but not all, of the core skills. However, in most cases, you also need to be the right type of person - check out our separate article on the type of person that makes a good personal trainer.
Knowledge And A Desire To Keep Learning
Deciding what will work best with one client as opposed to another requires good knowledge about fitness and nutrition. It is essential that you know about developments and new thoughts in the industry so that you can ensure you are giving your clients the very best possible advice. This will involve you updating qualifications, considering new ones and being very well read. This will all enable your client to see you as the expert.
Passion
To be successful you will need to convince your client that their success is as important to you as it is to them. You will need to be enthusiastic, positive and proactive. Your clients may experience moments when the going gets tough and they want to give up. You will need to be able to motivate and energise them through those lows. A further skill is to ensure that every client, whether they have you right at the end of the day or at the beginning, receives the same level of energy and enthusiasm.
Communication
You will need to be an effective communicator on a 1:1 and if you want to teach fitness classes good with a group. In a 1:1 your communication skills will require you effectively listening to what your clients' needs are, challenging when appropriate, being sensitive and empathetic, particularly if your client is obese and has body image issues.
You will need to know how to say the right thing when your client is low, sad, wanting to quit, but you will also need to know how to praise and reward. In group classes you will need to know how to be heard in a large class environment and deal effectively with group dynamics, when people for example are overly competitive or disruptive in the group.
Flexibility
This is about knowing when to push and when to offer support as well as knowing when something isn't working and you need to restructure a programme. As far as the latter is concerned your programme may in practice not be working, so you need to know when you need to change things. Likewise there will be times when your client needs some tough love as well as when they need a really sympathetic ear.
What Qualifications Do You Need?
To be a personal trainer in the UK you will need three or four things:
Level 2 Gym Instructor Qualification
This is also known as the fitness instructor course. This will allow you to work as a gym instructor in a gym, health club in the UK. This is the same level as a GCSE. If you are studying part time then the course can take around 6 weeks but if you are studying full time then it can take 8 days.
Increasingly this is not required as a pre-requisite for some of the Level 3 Qualifications. ALways check with the provider of the Level 3 course you are doing though.
Level 3 Personal Trainer Qualification
This allows you to work as a self-employed personal trainer in the UK. This is the same level as an A level or BTEC National Diploma. If you are studying part-time this can take around 5 months, full time it will take you about three weeks plus. Be very wary of courses that are 2 weeks or less - as they may only provide you with a Level 2 qualification.
See how important UK personal trainer qualifications are with our dedicated guide.
First Aid Certificate
It is essential that you have a first aid qualification in case a client has an injury whilst they are working with you. Most are valid for 3 years.
Personal Trainer Insurance
This is, believe it or not, not a legal requirement in the UK. Personal trainer insurance will cover you in the event of your client injuring themselves when under your care. There should be no circumstances where any one is working as a personal trainer without it.
If a client is injured whilst working with you they could decide to sue you for that injury. If it leads to them being off work for a period of time you could also be liable for their loss of earnings.
Where Can I Get A PT Certification?
There are a number of different organisations that will offer you courses to train as a personal trainer. The key thing to remember is that all courses must be accredited by the Registry of Exercise Professionals (REP'S).
Once you are a personal trainer you can also register with REPS (although this is not mandatory and offers very little) this is a way that the UK ensures that industry standards are met. Above we have listed the main providers of personal trainer courses in the UK.
Further Qualifications
It is always advisable to have a broad base of qualifications which will make you more marketable when potential clients are looking to find a personal trainer. Another piece of advice is to look at qualifications that can set you apart.
An example would be to gain a qualification in obesity and dibates management, or you may want to work more with children and therefore may be interested in a course on physical activity for children.
The Pros Of Being A Personal Trainer
Your business
Ultimately, unless you chosoe to go work in a gym and lose a fat chunk of your salary and freedom, you need to understand and be willing to learn how to get clients as a personal trainer. There's lots of ways of doing this - online marketing with the NRPT.co.uk is a good start.
Working With People
It's your business. If you want to be a really effective personal trainer then you need to establish a good relationship with your client. This way you can understand what they need and want and then design a programme that is bespoke for them. If you are interested in people and want to understand what makes them tick this role provides plenty of this.
Rewarding
Many personal trainers say that there is nothing better than helping another human being get fit and achieve their goals. You can really help someone and make a big difference in their lives.
Flexible working
This is not a 9-5 job. You can work when it suits you so this role is great if you are also looking after children or an elderly relative. You can work with clients early morning, at any time of the day and also evenings and weekends. The most successful trainers are usually available when needed but this role really can be whatever you want to make it.
Variety
Not all clients will be the same, in fact some may have very specific medical issues. This means you can have a huge amount of variety in your day.
Opportunity
You may want to continue being a personal trainer working for yourself or you may want to employ other personal trainers. You could also in the long term set up your own gym, teach fitness classes, or train other personal trainers. In this sense this is a career that can lead on to other things.
The 'Cons' Of Being A PT
It's Tough
Being a personal trainer is competitive and it is hard work which can be demanding on your body as well. Why not check out our further information on the type of work that PT's have to endure and how they need to look after themselves. You will need to put the hours in to create success. You will also need to be alert to injury and take care of yourself.
Uncertain Income
It is hard to predict earnings as people can cancel appointments or a gym could dispense with your services if for example they decide to change the fitness class schedule. This can make financial planning difficult,
It's a Business
Some personal trainers think it's all about being good at fitness but it's also about knowing how to sell your services. You will need to promote yourself and ensure that you maintain your clients. You will also need to acquire some business skills like advertising and keeping good books for the accountant.