Level 3 Personal Trainer Course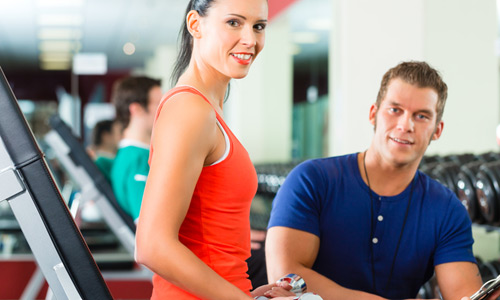 So what does Level 3 mean? A Level 3 Personal Trainer Course is one that adheres to Government guidelines as set out by the Chartered Institute for the Management of Sport and Physical Activity - or CIMSPA for short. It's what allows you to say you are a personal trainer!
To call yourself a personal trainer - you need a Level 3 or Level 4 recognised qualification!
So how can you get your Level 3 (or 4 for that matter) Personal Training qualification? With a myriad of different training providers offering an even wider range of personal training courses from part time to classroom-based, elearning to intensive, you'd be forgiven for getting completely confused as to who to go to and which Level 3 training course to take. Let's go back to basics first.
The Health & Fitness Industry
As a whole, the health and fitness industry is represented by Cimspa. They ensure that professionals in the industry look after the exercise and physical activity of those who use it - hence their accreditation of personal training courses and training providers. With thousands of health clubs, gyms, trainers and exercise professionals in the UK, the health and fitness industry has grown rapidly not least due to the need for Government to ensure public health and to meet targets to fight obesity.
So a snapshot shows there are around 660,000 people (Direct.gov 2012) which represents about 2% of the UK workforce. Making up this number of employees are almost 40,000 workplaces of which almost 3/4 employ 10 or less people.
Entry Requirements
If you want to become a personal trainer you would usually be an experienced gym instructor that holds a recognised qualification that is accredited by CIMSPA at Level 2. This includes :
Level 2 Certificate in Fitness Instructing - Gym
Level 2 Diploma in Health, Fitness, and Exercise Instruction
Level 2 Diploma in Instructing Exercise and Fitness.
If you then want to make the jump up to be a personal trainer, the Level 3 Personal Training Course is what you're looking for. These are available through both colleges and more often than not, through private training providers (such as the training providers we feature).
You need to carefully compare the different courses offered by the training providers as whilst they will all be Level 3 and have CPD points, some course offer very different modules that may suit your skills better.
How Are The Courses Accredited for Level 3
The CIMSPA professional standards set out and describe the knowledge , competencies and skills needed to perform specific job roles that underpin the categories that CIMSPA have set out.
What Are My Job Prospects?
If you choose to become a personal trainer (and take that Level 3 course) then you can use your qualification as a gateway to a complete range of careers in the health and fitness profession. Whether you choose to focus more on the rehabilitation route, or want to become a PT to the celebs, your interpersonal skills and knowledge can help change lives.
Whatever the current state of the economy, trainers are always in demand. From being self-employed to working in a health club chain, your skills will be needed to help others reach their goals and to help the Government reach theirs!
See the training providers of level 3 courses below.