Personal Trainers in Manchester City
You can browse the profiles of qualified and insured personal trainers in Manchester on the NRPT.co.uk. We all need motivation sometimes, so start by comparing male or female personal trainers in Manchester City area. A PT can help you focus on fitness goals, prepare for a race or support a new weight loss regime.
Comparing Personal Trainers
With different expertises, experience and personalities, across Manchester the NRPT.co.uk lists ONLY insured and qualified Level 3 personal trainers. Online since 1999, the NRPT.co.uk has an enviable reputation. In Manchester you have a great choice of personal fitness trainers from which you can select, so no one should be left out.
Why Find A PT On The NRPT.co.uk?
Surely trainers have their own websites? Yes they do, but we can help you compare a number of them quickly and easily. The NRPT.co.uk has been online since 1999, and our trainer register allows you to check expertise areas, price, qualifications and look for testimonials. At the gym, in a studio or at home - the choice is yours.

» Show Filters

Loading results...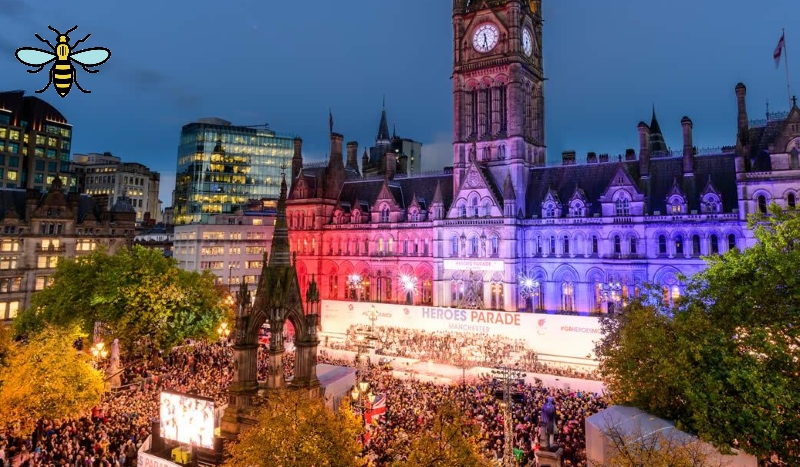 Getting Fit In Manchester
Manchester has some of the highest proportion of fitness facilities in the UK. In the last set of statistics compiled by the Office for National Statistics it appears there are 8 fitness facilities per 100,000 people in the city of Manchester, which is well above the national average of 5.
So What's On Offer?
With so much choice, we have tried to group the offering under: luxury health clubs; university facilities; specialised gyms; cheap budget gyms; traditional gyms; and park fitness. Phew - there really is quite a lot of choice.
Health Clubs
Manchester offers a range of health clubs including clubs like David Lloyd. In fact David Lloyd Clubs have three health clubs in Manchester, in Cheadle, Trafford City and Manchester North. These health clubs include gyms, saunas, exercise studios, indoor and outdoor pools, tennis, badminton and squash courts.
In addition to David Lloyd there is The Nuffield in Manchester Printworks Fitness and Wellbeing Gym. This comes with facilities that include a gym, swimming pool, spa but also physiotherapists a medical clinic, physiologists and cognitive behavioural therapists. Nuffield are also in Didsbury and Bolton.
Livingwell could also be put in this category. They are located in Manchester Deans Gate and offer gyms, spa, swimming pool, steam and sauna facilities as well as beauty therapists.
University Facilities
Manchester boasts a number of great Universities and Manchester University and Manchester Metropolitan offer facilities to both students, staff but also members of the public. Manchester Metropolitan University has Platt Lane Sports Complex with pitches, gym and fitness classes.
In addition there is Sugden Sports Centre and the Manchester Aquatics Centre with gyms and a 50m pool. The University of Manchester boasts the Armitage Sports centre with a fitness suite, indoor sports halls and outdoor pitches.
Specialised Fitness Offerings
There are a number of specialised offerings in Manchester. For women there is Fierce Fit a women's only gym set up. This offers women body conditioning classes, HIIT classes and body weight workouts. Another example is the Fight Factory in the centre of Manchester which offers boxing coaching, gym and competition ring.
Budget Offering
Many gyms now position themselves as budget, no contract gyms and Manchester is not short on these offerings. Pure Gym for example has gyms in Spinningfields, Northern Quarter, Islington and Outer Manchester. They offer over 50 fitness classes each week and gyms and are classified as budget as you can buy a day pass or a monthly fee with no contract. They are open 24 hours per day. There is also The Gym which brand themselves as budget where again they are open 24/7 and offer 40 exercise classes per week. They only cost £12.99 per month and again no contract is required.
In the budget group is also JD Gyms a relatively new offering which cost £15.99 per month offering fitness studio, sauna and 250+ machines and an incredible 250+ classes each week. They are situated only 1 minute away from Oxford Road in the centre of Manchester. An interesting feature here is the sprint and prowler track they offer.
Traditional Set Ups
There are a large number of what we could term traditional gym set ups throughout Manchester. These include Anytime Fitness based in Manchester Piccadilly. They offer free classes, personal trainers and 24 hour access. If you join Anytime Fitness you can have access to 160 UK gyms and 4,500 gyms worldwide. Trafford Leisure situated in central and south west Manchester offer gyms, exercise classes, swimming pools and various racquet courts. Dynamics Health and Fitness Gym offers a gym, boxing facility and ladies only section. They are situated in Bury in Greater Manchester.
Slimming & Weight Loss Clubs
If you are looking to not just get fit in Manchester but also to manage or lose weight then Manchester has a huge number of slimming organisations. Slimming World offers groups in Manchester City centre as well as in Hulme. Here you can attend group sessions as well as accessing the service online. There are also a number of hospitals throughout Manchester like the Spire who will offer various medical procedures for weight loss including gastric band and gastric bypass surgery.
There are simply too many slimming organisations to list but some to mention include Core30 which relies on hydraulic technology, Unislim which has been operating in Wilmslow for over 40 years, Wonder Nutrition which offers acupuncture and a very holistic approach and finally Lifestyle offering health, fitness and nutritional advice.