A Personal Trainer Guide to Creating A Website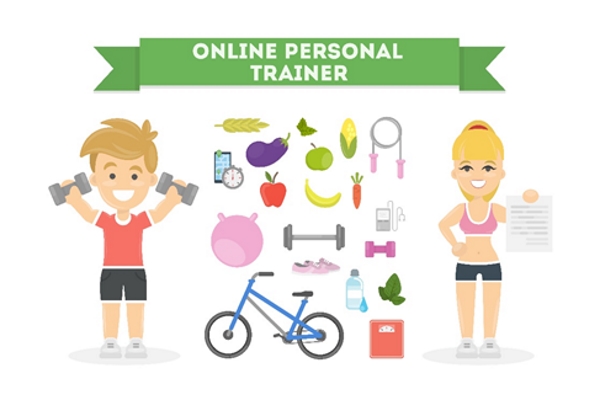 Fitness has been a growth industry over the couple of past decades. But the industry has evolved, with services moving online, both for free and paid for. In order to be a successful personal trainer, it will require a level of self-promotion.
Why Personal Trainers Should Create A Website
A professional website is a tool you can't afford to work without, with 87% of people more likely to turn to search than other online or offline resources. (1) Having a digital presence will help your customers find you whenever they like, 24-hours a day, 7 days a week. Marketing yourself as a personal trainer will also increase your credibility, improve your brand loyalty, and increase your overall revenue. So, no matter how established your business is offline, it's crucial you first have the online essentials in place.
Before you build your fitness website, you'll need to decide which platform to use. Website builders will enable you to design and host a website, with no coding knowledge required. No matter your experience, you can easily create a website to sell your services, connect with customers, and grow your business.
There's no doubt that a well-designed website will be a return of investment for your fitness business. The right design can establish trust, helping to turn visitors into paying customers.
Ready to build your fitness website? But unsure which is the right solution for you? We've chosen the best website builders currently on the market.
---
---
Wix
Wix is an all-in-one platform that will allow you to build all types of websites. There are three options for building the website. Firstly, there is Wix ADI, which is usable by anyone. Wix ADI will create a near complete website for you, with basic editing completed using the drag and drop function. The additional Wix Editor and Wix code will give you more flexibility in the layout. However, they require more advanced computer skills.
What are the Pros of using Wix Websites?
Business Oriented Tools
With Wix App Market, connecting with customers is easier than ever. Wix offers hundreds of business apps, ideal for catering to your visitor's individual needs. One of the most useful tools is Wix Bookings which will allow you to schedule fitness appointments and group classes from your website. Wix will also help you interact with potential clients, by using the Live Chat plugin.
Templates and Designs
Wix offers over 500+ free industry-specific templates. They're designs take care of both responsiveness and accessibility, meaning they are optimised for mobile, desktop and tablets.
Cost Effective
All payments are affordable and offer incentives to upgrade. For example, plans offer discounts the longer that you sign up. Most of all, you can upgrade and cancel at any time rather than being locked into a 24-36-month contract.
What are the Cons of using Wix Websites?
SEO Problems
Wix is not the most SEO friendly platform, which means your website may not necessarily rank well. The free Wix SEO Wiz tool will help you with basic ranking factors, although it is very limited. This will affect how much traffic you can reach if your website is not fully optimized.
Templates
When using Wix, choose your design carefully. Unfortunately, once you have picked a template, you can't change it. You can easily edit the elements of the templates, but it is not possible to choose a new design without starting from scratch.
Prices – Is Wix Free?
There are 9 Wix plans available, with 1 free plan. If you want to get an online presence, for a temporary purpose, the free plan is ideal. However, if you require professional features like your own domain or removal of ads, you'll have to upgrade to one of their premium plans.
Wix's prices start at £3 per month. It includes a domain name and displays brand ads. The cheapest ecommerce plan starts at £13 a month. This plan will allow you to sell your fitness services online.
SquareSpace
SquareSpace appeals to both the non-developer and developer community. Similarly, to their competitors, they offer modern and mobile responsive templates which makes creating a website easy. As well as they're own templates, you can upload your own design. You'll also get a free domain name, unlimited storage, and a 14-day money-back guarantee.
The main downside to SquareSpace is the price. Their plans are limited to a single website and limit the number of pages and products.
Weebly
Weebly is a great choice for an all-inclusive website builder. It isn't as sophisticated as SquareSpace or as flexible as Wix, but it's easier to use than both. It offers around 70 themes, which is similar to SquareSpace. The themes on offer are better than Wix, although not as good as SquareSpace.
The pricing is also competitive, and you don't have the typical caps of other website builders. The cheapest ad-free plan is £7.50/month. If you like ease of use, Weebly is ideal.
WordPress or Wix?
Deciding between WordPress and Wix is not an easy decision since they are both great tools for building a website. However, they are actually very different: Wix is a website builder and Wordpress is a CMS (Content Management System).
WordPress is a self-hosted CMS. This means that you will have to pay for hosting and a domain name separately. WordPress is also more sophisticated than Wix but will enable you have to more flexibility with your website. When it comes to ease of use, you can learn Wix a lot quicker. Wix uses drag and drop which means you can adjust your website within a few clicks. If you have some coding knowledge, WordPress will allow you to edit almost everything, but you will need some advanced skills to do so.
Overall, Wix is ideal for non-developers looking to building their first website. It's easy to use but does have its limitations with the amount of flexibility.
Best Practices
Which Pages Does a Website Need?
If users can't easily navigate what they're looking for, they will leave your site. Customers will expect a few basic pages which will allow them to get the relevant information they need. By building a user-friendly website, with clear navigation, you can help
What is a Domain Name?
A domain name is the address where users type in the browser URL to visit your website. It involves a process of finding and identifying the page requested. The Domain Name System translates the name to an IP address. A domain name can be a mix of letters and numbers and includes a variation of extensions such as .com, .co.uk and more.
How do you Choose a Domain Name?
With a new .UK domain name being registered every five seconds, competition is high. Choosing the right domain name will not only set you apart from competition, it will help people easily locate your website. The difference is crucial – it could well decide whether your brand succeeds, or not.
1.) Keep it Short and Memorable
A domain name can be up to 253 characters long. However, visitors will easily forget your name if its complicated. According to research by Gaebler, the average length of 1 million of the most popular websites was approximately 10 characters. (2) You also want to ensure your domain name is simple to type. It is best to avoid; numbers, words difficult to spell and hyphens.
2.) Use a suitable domain extension
Domain extensions, also called 'Top Level Domains', are the letters that come after the full stop at the end of the name. For example, most URL's end with .com or .co.uk. If you are based in the UK, it's best to choose .UK. According to research, 70% of people would rather buy from a website ending in .UK. For best practices, you may want to avoid using .biz or .net as these are often associated with spam websites. (3)
3.) Research
With so many companies trademarked, selecting a name can be challenging. You may want to consider researching before you register your name. Still stuck for ideas? Online tools such as Domain.nr. will help with creative ideas to make your fitness business easy to find and promote.
Why Do You Need Web Hosting?
For your website to be live on the internet, you will need to host it. A web host is the company that sells the server space for you to rent out. We recommend that you register your domain using a credible web hosting company. The host will then enable you to register your domain so that it can be accessed by everyone on the web. Once you have chosen a unique name, you own the exclusive rights to the name.
What are the 3 Most Popular Domain Registers?
1.) Domain.com
Offering a variety of services such as WordPress Hosting, VPS Hosting and Shared Hosting. Although originally just a domain register, they offer everything you need to help maintain an online presence: domain-related services, web design and digital marketing. You can choose to sign up for 12, 24, or 36 months for your initial plan. They offer low starter fees for new customers, making it inexpensive and affordable to host a website. However, after your initial term expires, your hosting will renew at a higher price. Since there's a 30-day-guarentee, you'll also be able to cancel at any time within this period.
2.) Bluehost
Bluehost is recommended by Wordpress.org as a number 1 hosting provider since 2005. They offer a range of hosting services including; WordPress Hosting, VPS Hosting and Shared Hosting. Bluehost also makes it very affordable and accessible for small businesses and beginners. They're excellent customer services, alongside great tutorials for beginners and intermediates is one of the reason's they are a leading hosting company.
3.) GoDaddy
GoDaddy offers many business and consumer-friendly options, although you'll have to pay a little more than other major hosting companies. Choosing your hosting plan is straightforward, and you can easily choose ad-ons such as site security. GoDaddy also offers a lengthier 45-day money-back guarantee.
How to Promote Your Website
Social Media
Social media is one of the most cost-effective ways of marketing your business online. Social media platforms such as Facebook, Twitter, Instagram, LinkedIn are fantastic ways to network and interact with customers. Undoubtedly, having a social media presence will benefit your business. You will be able to interact with a wider audience, address inquires or complaints, and build brand visibility.
Create Content for your Website
Creating relevant content is crucial to the success of any website in order to differentiate from competition. By posting content which resonates with your audience, you can better understand their issues and concerns. The more content you create, the more likely you are to drive traffic to your website, increase your sales and establish yourself as a fitness authority. Whether you write a blog or post a video – online content should be your priority.
Blog – By writing a blog, you will help establish yourself as an expert in the field. A blog will give you a platform to share important industry-information whether it be current trends or insightful statistics. You have a 434% higher chance of being ranked highly on search engines if you include a blog as part of your website. (4)
Videos – People browsing the internet are more likely to engage with videos than text, with information easier to digest as well as saving the viewer time. By creating video's, it will give you the opportunity to interact with your customers and is a great way of portraying personality behind your brand. By 2022, online videos will make up more than 82% of consumer internet traffic. (5) Being able to create video content will also allow you to educate your customers on how great your service is so they can get the most out of it.
Pay for Traffic
One of the most effective ways to get visitors to your website is with paid traffic. Paid advertising involves buying traffic with online ads. By displaying your ads in a competitive space, you can drive relevant traffic to your website. With targeting options available, you can market to audience demographics for instance location. There are many types of paid advertising, with the two main ones being Pay-Per-Click and Pay-Per-Impression. Once you have displayed your advertisement, you can also measure and track the results.
SEO
Search Engine Optimization is the practice of increasing your search engine ranking. One of the ways Google chooses to rank pages highly is by choosing interesting and authoritative pages. Without SEO, searchers won't be able to find your site. Some SEO ranking factors include;
Mobile friendless
Page Speed
Secure and Accessible Website
Links
Keywords
---
---