Hottest Fitness Trends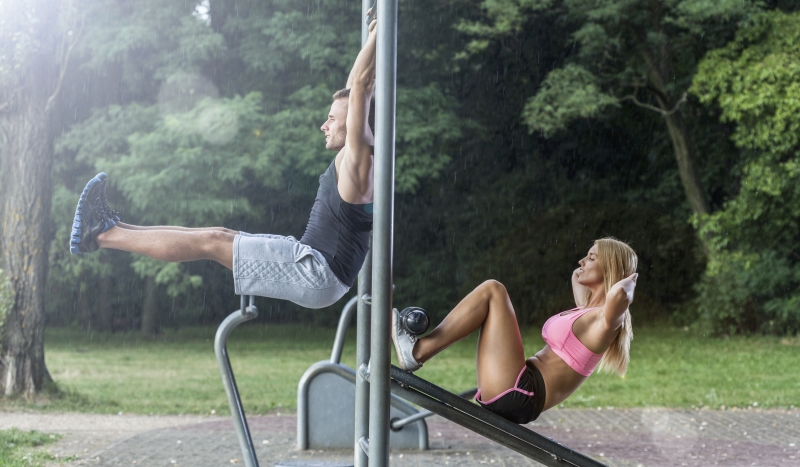 It's a new year and many of us have fitness on our minds. Before you decide what do to about it, check out the hottest fitness trends.
Personal Training: Group Style
A huge benefit of having a personal trainer is that you are less likely to slack off if you know someone is monitoring your progress. The downside may be the cost. To make it more affordable, two to four people hire a personal trainer to conduct a session together. For group personal training to work, individuals should be at approximately the same fitness level and have closely-related goals.
Interval Training
Our fast-paced lifestyle leaves little time for exercise –that's a popular excuse, anyway. That's why gyms are offering a greater number of short, goal-oriented classes. With a focus on achievable results, these 30-minute classes can be highly intense. Popular classes target particular muscle groups, cardio, or endurance. You can keep things interesting by rotating classes.
Aqua Zumba
Zumba has been one of the hottest trends of recent years, but we're taking it to the pool. In fact, you might find yourself invited to an aqua Zumba pool party this summer. A little bit aerobics, a little bit dance, and a lap exercise or two in time with the music makes it nothing short of exhilarating. You're likely to hear a lot of laughing and shouting during an aqua Zumba class. Because you're using water for resistance, it is especially well-suited to people who don't want to put stress on their joints.
Ugi
Fresh from Canada, Ugi is a high-intensity, 30-minute workout performed in bare feet. Using a 15cm diameter exercise ball, Ugi works on building endurance, strength, and core stability.
Juicing
Juicing has been growing in popularity in recent years and is expected to boom in 2013, especially in the U.K., where juice bars are opening at an amazing rate. In 2012, coffee giant Starbucks opened its first juice bar in the U.S.
Gluten-free Diet
The diet of people with coeliac disease (inability to digest gluten), it's catching on with the general population. Gluten is a protein found in products containing wheat, barley, and rye. Proponents claim gluten can cause stomachaches, headaches, and fatigue. Check with your doctor before making drastic dietary changes.
Cardio Tennis
Tennis is a great workout, working multiple muscle groups, including the heart. Cardio tennis classes take the sport to another level, adding a soundtrack and a series of drills to provide an intense workout.
Fitness Videos
Fitness videos aren't new, but you no longer have to endure celebrity showcases. A wide range of fitness DVDs by real health experts can give you a professional workout without leaving home.
Fitness Apps
Keeping track of lifestyle choices is easier than ever, with a variety of apps designed to help. You can use apps on a variety of mobile devices to keep track of your food, exercise, and sleep habits as you go. With a little self-discipline, you can be your own personal trainer.