Study: Aerobics Beats Resistance Training for Fat and Weight Loss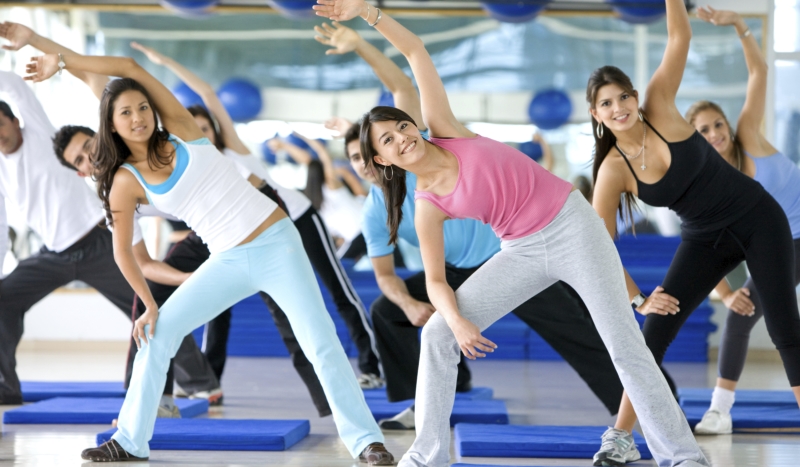 If you want to lose fat and weight, aerobic exercise is a better choice than resistance training.
A study out of Duke University Medical Center analyzed the results of aerobic exercise, resistance exercise, and a combination of both in the biggest randomized trial of its kind, using overweight adults who did not have diabetes.
Research
Previous studies of aerobics like swimming, walking, and running have proven its effectiveness in losing weight. In recent years, resistance exercises like weightlifting have been touted as a good way to build muscle and improve metabolism, resulting in weight loss. Studies revealed several benefits of resistance exercise, but have not concluded that it had an effect on fat mass.
Two hundred thirty-four overweight or obese volunteers took part in the study and were assigned to one of three training groups. Under close supervision, the aerobic training group exercised the equivalent 12 miles a week; the resistance training group was assigned weightlifting exercise, performing three sets of 8-12 repetitions a day for three days a week; and the combination group did 12 miles of aerobics a week, plus resistance exercise at the rate of three sets of 8-12 repetitions a day for three days a week.
Data from the one hundred nineteen participants who completed the study were analyzed to see how each exercise plan affected body composition.
Those who performed aerobics or a combination of aerobics and resistance exercises experienced more weight loss than the resistance only group, who increased their lean body mass and gained weight.
In summary
Aerobics was found to be a more efficient way to lose body fat, with participants averaging 133 minutes of training per week. The resistance only group exercised about 180 minutes a week but did not lose weight. Those who did combination training spent twice as long exercising and lost both fat mass and weight, but not considerably more than those who did aerobics alone. They did, however, have the biggest decrease in the circumference of their waists, possibly due to longer exercise time.
Some theories propose that resistance may help weight loss due to better resting metabolic rate, a determination of calories burned at rest. This study did not measure resting metabolic weight, but neither fat mass nor overall weight changes were recorded in the resistance only group.
The study's lead author, Leslie H. Willis, MS, an exercise physiologist at Duke Medicine, said, "Given that approximately two-thirds of adults in the United States are overweight due to excess body fat, we want to offer clear, evidence-based exercise recommendations that will truly help people lose weight and body fat."
The researchers are careful to note that in older people who have muscle atrophy, resistance training is known to be helpful. In younger people who want to lose weight, aerobic training is likely to have better results.
Details of the study are published in the Journal of Applied Physiology. Cris A. Slentz, PhD, a Duke exercise physiologist, was the study co-author. The research team also included Lori A. Bateman, Lucy W. Piner, Connie W. Bales, William E. Kraus, and A. Tamlyn Shields and Joseph A. Houmard of East Carolina University. The National Heart, Lung, and Blood Institute, National Institutes of Health funded the study.
Reference:
L. H. Willis, C. A. Slentz, L. A. Bateman, A. T. Shields, L. W. Piner, C. W. Bales, J. A. Houmard, W. E. Kraus. Effects of aerobic and/or resistance training on body mass and fat mass in overweight or obese adults. Journal of Applied Physiology, 2012; 113 (12): 1831 DOI: 10.1152/japplphysiol.01370.2011