Dumbbells
If you are wanting to build a home gym then dumbbells (the short weights that you can lift with one hand) really are a great buy as they are incredibly versatile. In effect, they tone both your upper and lower body and work out relatively inexpensive.
When buying dumbbells you have two main options. Either to buy several pairs ie some 5 pound weights,10 pounders,12 pounders and so on or buy an adjustable dumbbell kit. The adjustable kits provide you with two handles and several weight plates. In addition you can choose from contoured handles, foam grips and hexagonal ends-to stop your dumbbells rolling away
A dumbbell rack is also a good purchase to keep your home gym tidy and well organised. So check out all the range of different dumbbells available and invest in some dumbbells for great strength and body conditioning.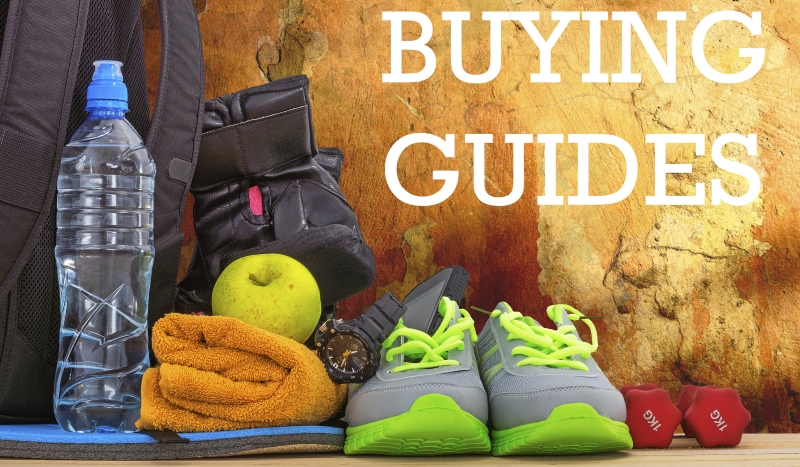 Dumbbell Buying Guide
Dumbbells are also known as free weights and they come in many different varieties, some of which we'll attempt to explain here. They are extremely popular in both home and commercial gyms and can be used for a very wide range of exercises.
What are Dumbbells Used For?
Essentially dumbbells are a way to build strength but also are a great source of aerobic training.
Decide first what you need them for
Before you buy your dumbbells do decide what it is that you will use them for. If you want to really build muscle you will need to purchase heavier dumbbells than say someone who wants to improve their flexibility or lose weight.
What Type of Dumbbell is Best?
There are 3 main types of dumbbell: fixed weight; adjustable dumbells; and studio dumbbells.
Fixed Dumbbells
Fixed dumbbells are usually sold in pairs and weigh anything from 1kg to 100kg each. If you are setting up a small home gym then you will probably require a 2.5-30kg fixed dumbbell set. Once you are clear that these are the ones you want then you have another decision to make-do you want fixed rubber dumbbells, fixed urethane dumbbells or fixed chrome dumbbells?
The main benefit of a fixed rubber dumbbell is that they have a great protective outer coating. This both protects the dumbbell and your floor. They are also much quieter to use than a chrome dumbbell so you may favour them to keep your neighbours happy! Urethane dumbbells look very similar to rubber ones but they are even more hard wearing. They are also a good choice if you hate the smell of rubber.
Fixed chrome dumbbells are a cheaper alternative to the other two but do be aware. They can chip far more than the others mentioned above, but they will do the same job, so if your budget doesn't stretch that far do check these out.
Adjustable Dumbbells
A dumbbell power block means that you get multiple dumbbells in one. You adjust the weight you want each time you use it by twisting a dial or a knob at the side. The benefit of this is that you need little space yet you have the flexibility of different dumbbell weights. Powerblock even claim that with their brand you get 34 pairs of dumbbells for just 2.The increments can come in small 5lb increments. The disadvantages of a power block is that they are typically limited to under 100 lbs and only 1 person can work out at any time.
Conversely if you want to use different weights you can simply buy a dumbbell set, more than one of you can work out at the same time, you can have a great variety of weights from 2lb dumbbell to a 20lb weight. A dumbbell set will however take up a lot of space and cost more.
Studio Dumbbells
These are a good choice if you want to use your dumbbells in studio classes. They are usually brightly coloured and are fully coated in textured rubber. This cover makes the grip secure when you are using them in an exercise class.
What To Look For When Buying a Dumbbell
Dumbbell Plates
The first thing to check out are the dumbbell plates. Most are made from iron but they'll come in different shapes and sizes, what you buy is all about personal preference. Some for example are shaped like a hexagon, others are round.
Dumbbell Handle
The handle can also really vary between manufacturers. Look for thicker handles if you have large hands and also think about the material that you favour. A rubberised grip is common, or you may prefer a scored metal grip.
Maintenance
Some dumbbells do require maintenance, particularly those that are constructed in pieces, these will require you to check that the plate is properly attached to the handle. Power blocks also require some upkeep, the click and lock mechanism will need to be well oiled. Both aren't huge amounts of maintenance but it all depends how you are suited to this.
Dumbbell Accessories
Once you are clear which dumbbells are right for you there are some accessories which can prove very useful. These include:
Weight Rack
A weight rack can help you store your dumbbells safely and help keep them organised for your workout. Most racks will store 10-12 pairs of dumbbells.
Rubber Exercise Bands
These can be very good to use alongside dumbbells to add extra resistance to your workouts.
Weight Bench
Using your dumbbells whilst standing is great but if you purchase a weight bench you will be able to perform your workout at different angles, proving more effective.
Weightlifting gloves and belt
These are only really required if you plan to lift very heavy weights. They will support your hands, wrists and lower back.