Level 3 Master Personal Trainer Course
Love what you do.
Become a Personal Trainer with Discovery Learning!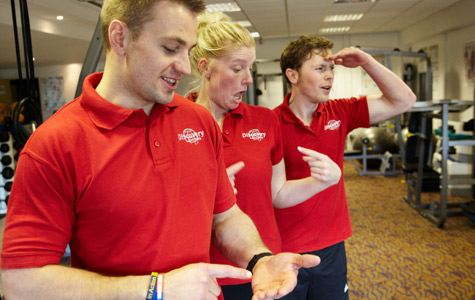 What our course offers
Our Personal Training courses are presented by experienced and highly qualified fitness experts meaning you'll learn from the best in the industry. We offer both part time & full time courses so you can chose the right course for you.
Discovery Learning's status as the Centre of Excellence for the National Skills Academy guarantees our courses & qualifications are second to none. We work closely with top employers in the Industry and can put you in front of the major clubs who recognise Discovery as a leading training provider.
All of our Personal Trainer courses are fully recognised CYQ qualifications.
Course Content
Our training options provide the most flexible and efficient route to becoming a top earning Personal Trainer!
Our Full Time (and Part Time) 6 week Master Personal Trainer Course includes:
L2 Gym Instructor
L3 Personal Trainer
First Aid
From here you get to choose your preferred route from 3 different options:
Option 1 - Club Fitness (choose 5 x 1 day courses from 11)

Indoor Cycling
Kettlebells
Circuit Training
Suspension training
Mixed Martial Arts
Business & Marketing Day
Sports Nutrition
Clinical Nutrition
Childhood Obesity
Behavioural Change & MI
Sports Injury



Option 2 - Special Populations route (GP & Exercise Referral)

Option 3 - Strength & Conditioning route

Our training options provide the most flexible and efficient route to becoming a top earning Personal Trainer. You will select your route based upon your interests and strengths as well as choosing to specialise in your preferred area. Unlike other training providers that determine what you will learn, here at Discovery we believe you should be in charge of your preferred Master PT route.
Certification
On successful completion of this course you will receive a CYQ - Level 3 Certificate in Personal Training, a Discovery Certificate - Level 3 Master Personal Training Certificate and 40 REPs points.
Next Step
Once you have completed your Master Personal Trainer Course there are a number of options open to you. We can help place you in to work if you want to get started straight away or there are a variety of courses you can do to further your learning, for example our Level 4 Obesity & Diabetes Management course.

What next?
You can contact us using the form below, or find out more on our website :
Thank you for your enquiry to Discovery Learning - someone will get back to you shortly.
Contact Discovery Learning
Discovery Learning Courses